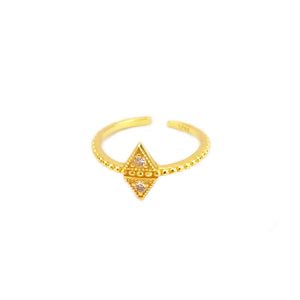 Manila ring in the shape of a rhombus.
The MANILA ring is a ring made of 925 sterling silver gold plated. It is a double adjustable double diamond-shaped ring.
Its sophisticated style forms a delicate piece that surrounds your around your finger stylizing it.
The MANILA is a perfect match for gold and gold plated rings, especially the Sunrise Gold 18k, Vienna Gold 18k and California Gold 18k rings. the Sunrise 18k Gold ring, Vienna 18k Gold ring and California 18k Gold Sterling Silver ring..